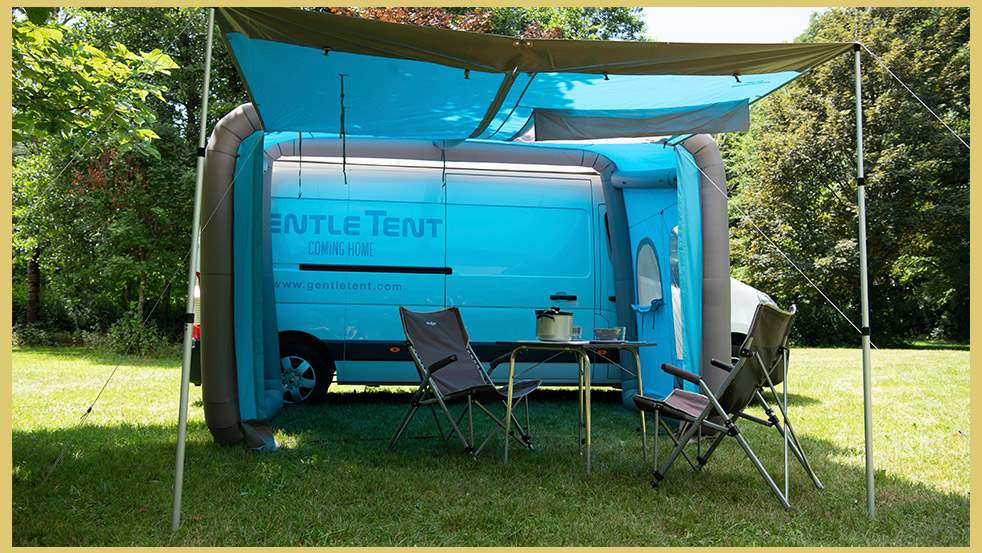 If you are travelling with an awning and are planning to stay longer in one place, you may want to decorate it comfortably according to your own ideas. Here we present you some ideas for your awning, to create a homely atmosphere – even outside the caravan.
The Tent Floor
Which floor is best suitable for an awning, depends on the climate and the type of the ground.
Plastic floors: The simplest variant is a plastic tarpaulin that is fixed to the floor. These are usually made of polyurethane, which makes them easy to clean and impervious to dirt. The tent floor of the inflatable awnings from GentleTent is made of robust and water-repellent ribbon fabric or fibre-reinforced PVC. The floor is connected to the awning by means of integrated connecting eyes and tent gag.
Plastic boards: Plastic boards are suitable for colder or muddier substrates; they are more insulative and therefore offer more heat. They are available in the form of plug-in boards that lie directly on the ground or on a plastic tarpaulin, or boards that are attached to adjustable feet slightly above the ground.
Independently of the floor, an additional tent carpet is recommended as an extra support: Tent carpets are usually made of polypropylene fiber and are extremely insulatable and therefore help keeping the floor warm.

However, before placing a tent floor in the awning, it is advisable to make sure that it is okay for the campsite. Not all campsite operators are happy with this, as the meadow underneath can be affected by the tent floor.

By the way: No matter how isolatable the floor of the awning is, wind and cold often come rather unexpectedly from the underside of the vehicle. The GT SEAL TUBE is the ideal solution: As a seal for the underside of the vehicle, the Seal Tube does not only offer a wind protection, but also prevents adventourous dogs from escaping under the vehicle. It is placed under the vehicle and inflated – important: before the set-up it should be ensured that the exhaust system of the vehicle is cooled down!
Awning lighting & lighting ideas
LED lamps or LED solar lights are very popular for lighting the awning. Many awnings have a loop inside the roof, where lights can be attached. Alternatively, they can be mounted on the poles or on the vehicle. Also table lamps are popular. For those who like to create a cosy atmosphere, however, light chains will be a particular pleasure. Open standing candles are not to be recommended because of the fire danger!

Light chains are available in DIY specialist stores, furniture stores, electrical stores, in normal camping specialist shops, which offer individual light-concepts for the use on the awning, the bus or the motorhome. Who doesn´t opt for a battery powert versoin, should consider the following points to guarantee safety:
Purchase a Light chain with transformator (plug-in power supply that reduces the voltage from 230 volts to 12 or 24 volts),
LED lamps (require less energy and have lower heat generation) and
Certification marks (TÜV or GS).
TIP: MAKE SURE THAT TORCHES AND HEADLIGHTS ARE STORED WELL DETECHABLE IN THE CASE OF POWER FAILURE!
Awning furniture
The best camping furniture is light in weight, robust und space-saving in transport. As a result, the most common are folding tables and chairs made of plastic or aluminium: they are easy to set up, easy to store and durable. Folding wooden furniture, which is more suitable for use in the garden, balcony or terrace, is also often used for camping. Disadvantages are their weight and packing size during transport.

Inflatable furniture, such as the inflatable sofas from GentleTent, offer a modern and light-weight alternative to conventional camping funiture. They are made of high-quality TenCate material and are therefore light, durable and easy to clean. As they are small and easy to transport and lightweight, they can be used in awnings, on the beach and even on the water. The GT AIR SOFAs are also equipped with tension loops for the insertion of pegs so that they can also resist the wind, when placed outside.

Folding camping cupboards made of aluminium or plastic offer good storage possibilities and help to prevent disorder in the awning.
DIY decoration ideas
Light chains are one of the most popular decoration ideas. Creating a homely and romantic atmosphere, chains of lights are one of the most popular furnishing and decoration ideas. Also carpets can give the awning extra warmth and cosiness. Coloured blankets transform the awning into a cosy and warm living room when temperatures are low.

Anyone who wants to do a little handicraft can make a lantern out of a preserving jar, a candle and a parcel string: Using a simple knotting technique – macramé (instructions are easily found on the Internet) – a kind of basket can be knotted around the glass and then hung up in the awning. Because of the danger of fire, it is better to use an electric tea light instead of an open candle flame.

Depending on the camping location lavender or sage can be picked and hung in bundles in the awning to dry. On the one hand, they give the awning a natural smell, on the other hand they are good repellents against annoying mosquitoes, and as soon as they are dried, they are thrown into the campfire to develop their greatest effect.
Camping kitchens and grills for cooking
Camping kitchens are available in every camping accessory store. Tent cupboards that can be folded for easy transport or folding cupboard systems are popular. The work surfaces are heat-resistant for the storage of cooking and grill plates.

The Kitchenbox that was developed from the Austrian company Go-Outside, constitutes a particularly clever concept. Its unique and patented folding system turns a small box into a spacious kitchen in no time at all. Depending on the model it may come with an integrated fresh and waste water canister and can be used with small or large gas cartridges and offers plenty of storage space inside for plates, cutlery and other cooking utensils.
DISCLAIMER: ALWAYS MAKE SURE TO KEEP A WINDOW OR THE ENTRANCE OPEN WHEN COOKING, TO ENABLE AIR VENTILATION. IT IS ALSO ADVISABLE TO HAVE A SMALL FIRE EXTINGUISHER OR FIRE BLANKET WITH YOU AT ALL TIMES!
A camping holiday without a barbecue would be like a schnitzel without breadcrumbs, Easter without eggs or Christmas without presents: it simply wouldn't be the same! If you don't have a campfire place to grill at the campsite, mobile grillers can help. There are numerous portable variants of electric grills, gas grills or charcoal grills on the market. It is important to remember that grilling with charcoal is only allowed outside!

We do not have a special recommendation in this case. However, we would like to tell you that we are happy to examine new developments of grills on crowdfunding platforms such as Kickstarter, where small companies present their innovative ideas and make the camping heart beat faster.