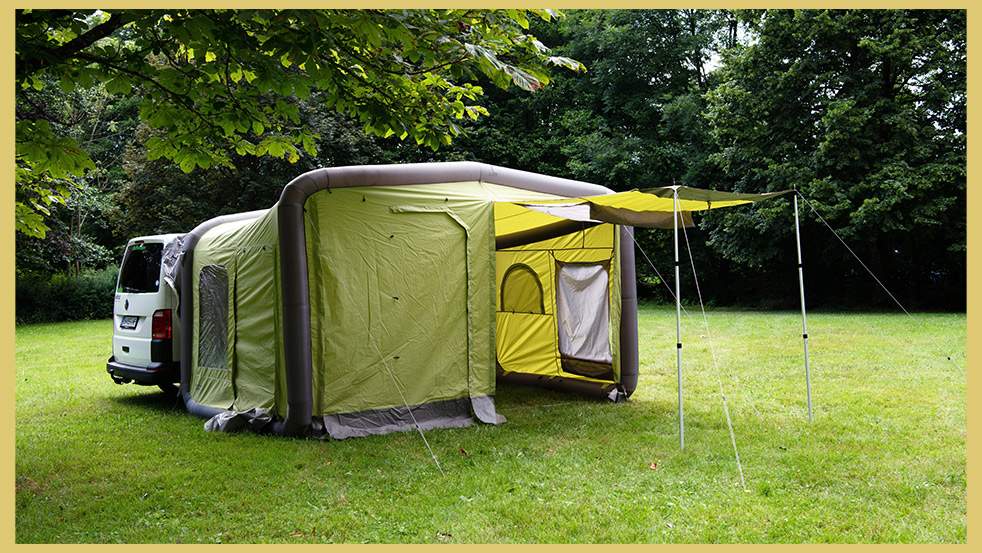 Whether sun, rain or wind protection, the camping market offers a large selection of different products. The range extends from simple sun sails, inexpensive marquees, classic travel-awnings or fixed pavilions. What are the advantages and disadvantages of an awning or marquee? Which one is better? For which activity should it be used? Here we provide a small overview:
Marquee, awning, pavilion or sun sail: What is what?
Awning
An awning is a tent that is fixed to the caravan, to create a "living room". It is distinguished between:
Self-supporting and not self-supporting awnings: Self-supporting awnings can stand alone, without being attached to the vehicle. Non free-standing awnings require a continuous connection to the vehicle for their stability.
Fixed and mobile awnings: Awnings can either be flexible and can therefore be taken along on journeys; or fixed and can thus be more suitable for permanent camping.
Seasonal awnings or all-year-awnings: Awnings suitable for use at a particular time of year or awnings that can be used all the time.
Awnings for different types of vehicles: Bus awnings, awnings for caravans, awnings for motor-homes or awnings for liners.
The big advantage of awnings is the protection against all kinds of weather: a good awning is robust and can withstand storms and rain.
Marquee
A marquee is a protective roof that is usually open all around and fixed to the vehicle by means of a piping rail. The two most common types of marquees are the bag marquee and the crank or cassette marquee:
Bag marquee: The bag marquee is the more popular. It is attached to the caravan via the piping strip and then tightened (with or without rods).
Crank/ Piping rail marquee: With the crank marquee, a piping rail is drilled into the vehicle, from which the marquee is then unwounded either by hand or, for a little more money, electrically – as can often be seen in city cafés in summer. It can be retracted in a matter of seconds in stormy weather, but unlike the lightweight bag awning it weighs a lot more.
Marquees are very popular as simple sun or rain protection, as they are quicker to set up and dismantled and are cheaper than awnings. Unlike pavilions they are also more stable. As a kind of awning replacement it is also possible to install side walls on most awnings and thus create a windbreak.
Pavilion
The pavilion is a mostly free-standing, simple canopy, which is usually open at the sides. It consists of a frame over which a cover is pulled and tensioned. As it offers only a roof over your head, a pavilion is a good companion in hot areas where shade and air permeability are most important, without creating a stuffy, enclosed space. However, since it is not too stable, it does not provide the best protection against wind and weather. A pavilion is therefore less suitable for longer camping trips.
Sun sail
A sun sail provides protection from sun, and -depending on the model- also from rain. As a waterproof sail, it is impermeable to air and can create a stuffy atmosphere. Depending on the model, a sun sail is fastened with a piping strip, suction cups, poles, guy ropes or pegs. They are cheaper than awnings and usually also cheaper than pavilions, but also less stable accordingly. Sun sails are not the best solution against wind and weather, but offer a compact and cost-effective alternative to awnings or marquees in warm or weather-resistant regions.
Pros- & cons: Awning vs. Marquee
| | | |
| --- | --- | --- |
| | AWNING | MARQUEE |
| Material | Cotton, Blended fabric and/or polyester with PVC or acrylic coating | Cotton, blended fabric and/or polyester with PVC or acrylic coating |
| Fastening | Piping rail or fastening with guy ropes | Piping rail |
| Functionality | Enlargement of the living room and protection of sun, wind & weather | Sun protection |
| Set Up | starting from 5 minutes* | 2-5 minutes |
| Pack Size | depending on the model, very compact or voluminous | space-saving |
| Weight | starting from 10 kg* | from 4,5kg |
| Price | +++ (3/5) | +++++ (5/5) |
| Summary | An awning is the "all-in-one-solution" for those who are looking for comfort, despite the weather conditions. It also creates additional space for you to enjoy sitting outside. | A marquee is a convenient solution for those who want to have a quick and easy set up and dismantling and are mostly travelling in fair weather. |
* the time and weight refers to the inflatable awnings of GentleTent. It may take longer to set up other awnings, and they can also be much heavier in weight.
Learn more about differences and similarities of material, fastening, functionality & price:
Material

Awnings and marquees hardly differ when it comes to the material that is used:
Cotton, a blended fabric and or polyester with PVC or acrylic coating are used in most cases. Acrylic coatings are the most commonly used material. Both materials are very robust, impermeable to water and dirt and easy to clean. Also the awning poles do not differ from the poles of the marquee – they are made of aluminium, fibreglass, carbon or steel.

Fastening

Also when it comes to the question of how to fasten the marquee or the awning, they are really similar. In most of the cases they are fastened via the piping rail or by using tent poles. Also suction cups are used from time to time. Normally, marquees are easier and quicker to set up because less poles have to be handled. Without poles, GentleTent's inflatable awnings are set up faster than the simplest marquee and are just as light.

Functionality

Awnings serve as a "room extension" of the caravan: with side walls and tent floor they are also well suited for cold temperatures; marquees fulfill fewer functions as mere sun and rain protection. In addition, side walls can also be purchased for marquees, but they are less robust and weatherproof than a common awning. Marquees are often more popular as they are lighter and take up less space than an awning. As mentioned above, GentleTent awnings also meet this criteria.

Price

Awnings are usually more expensive, while marquees are usually very inexpensive, although piping rail marquees are less affordable than bag awnings. If side walls are bought as extensions, the costs of a marquee are in the same price category as those for real awnings.

Awning or Marquee? We have both:
Getting an awning even though you already have a marquee?
Anyone who has already installed a marquee does not have to live without an awning: A lot of awnings can be fixed to the installed marquee by putting the roof over the marquee and fastening it to the side, without having to remove the marquee.

Since the piping rail remains free in piping rail marquees, the awning can also be pulled directly into the piping rail. The inflatable awnings from GentleTent can be easily attached to a marquee using the car-connection or connected to the piping rail using the piping.
Awning or marquee: What to do during storms?
When it comes to the awning or marquee question, weather conditions are probably the biggest decisive factor. Here's a quick look at the right protection against storms: storm straps ("tie-downs") are available for both awnings and marquees. These are extremely hard-wearing straps, which are tensioned over the tent together with tension-relief springs (which are designed to absorb the tensile forces in the wind) and tensioned with robust Y pegs or screw hooks. In general, marquees are less stable than awnings – despite storm bands – as they can be lifted more easily by the wind. Eventually installed side panels offer more potential to be blown away than awning walls made of single, uniform fabric.

When a storm comes up, it is important not only to fasten the storm straps properly, but also to check the poles and guy ropes so you can get through the storm safely. In the case of hurricane-like weather warnings, however, the safest solution is to disassemble it quickly.