AWNING CLEANING: THE RIGHT WAY!
Posted:
December 03, 2018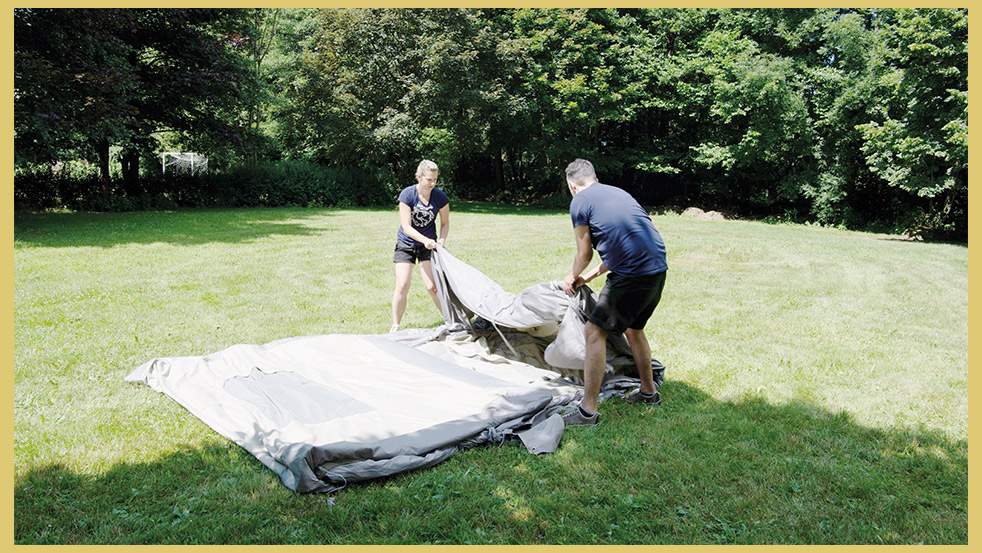 The camping holiday is over. Before the awning is stored, it is time to clean the awning.You will find what you need to pay attention to including tips & tricks for cleaning various tent materials and stains here.
1. Self or professional cleaning?
For stubborn dirt, or when deep cleaning is required, professional cleaning can be advantageous, especially if the tent needs to be re-impregnated and sealed afterwards. However, everyday cleaning of the awning is simple and can easily be done by yourself.
2. What & when must be cleaned?
As a rule of thumb: Always after the camping trip or before stowing away, everything: floor, tarpaulin, windows, ropes, pegs and possibly existing poles.

In particular, these signs require more intensive cleaning:
Green cover (algae, moss, lichen, or other chlorophyll microorganisms that grow and spread over the material)
Dark stains (dark stains due to moisture damage, which occur mainly when the tent is stored damp; these usually bring with them a musty smell)
Mould (fungi, which often go hand in hand with mould stains and can multiply well in the humidity)
In the following we will show you how.
3. The best way to clean your awning
Cotton, polycotton and fabric with/without coating
Cotton
and polycotton are simply brushed off, if possible without water.
Coated fabrics
(PVC, acrylate, PU) are best cleaned with
lukewarm water
and a
cloth
or soft brush to avoid damaging the coating.
The inflatable
GentleTent awnings
are made of high-quality
TenCate
or
Polycotton
material, which is already produced to be fungicidal and dirt & moisture repellent; a simple wipe with a soft brush and lukewarm water is sufficient.
For more stubborn stains, a mild detergent or a gentle
tent cleaner
(available in the camping store) diluted with water can be used; however, please note that after using special detergents it may be necessary to treat them with impregnating or sealing sprays.
For our
GentleTent awnings
, use TenCate's tried and tested cleaning & impregnating agents, e.g. from Isaclean, 123products, HG, or Ultramar.
On
uncoated fabrics vinegar cleaner
can also be used.
Green coating, mildew stains, mould
There are special cleaners that can be used to remove the green coating. Depending on the level of infestation, the product is concentrated differently in warm water and is best distributed over the entire tent with a spray bottle. It usually takes 24 hours until the whole covering is dried up (recognisable by its brownish colour); as a next step, everything can be rinsed off. Most removers offer protection against new soiling after only one application.

The most common products to treat mould stains are vinegar cleaners, alcohol, or chlorinated bleaches. As all of them can attack the coating, it is advisable to use special tent cleaners first.

The same also applies to mould fungus: fungicides that do not attack the tent fabric are also available on the market.
4. How to clean windows, ropes, tent pegs, poles of your awning?
Also for cleaning the tent windows, it is sufficient to use a soft brush and warm water. To avoid streaks, it is best to wipe the windows dry with a cloth instead of allowing them to air-dry.
A window cleaner for PVC windows should not be used, as it could lead the windows to become brittle when used regularly.
Poles and ropes can be easily wiped off. The most important thing is to ensure that they are completely dry before being packed away.
5. Impregnation of the awning
If you had to use more aggressive cleaning agents when cleaning the awning, you should consider re-impregnating the tent in case its coating was damaged.

Most impregnating products are either sprayed on the tent or diluted in water, so that the tent is soaked in it. The awning has to be dry before the treatment. After applying, the material has to be dried completely and should not be rinsed again.

Many manufacturers sell their own impregnating products, which are best suited for their awnings. If this is not the case, you should make sure that the product you buy is suitable for your awning material.
6. Further tips & tricks for the cleaning of your awning
Make sure that all soap residues are carefully washed off after cleaning your awning!
Green coat, mould and mildew stains can be avoided by storing your product properly:

Make sure the awning is dried completely before storing it. For this you need a dry, well ventilated place.
It is best to stow the tent in a cotton bag in a dry, well-ventilated room and to pack the poles separately.

Do not use high-pressure cleaners or wire brushes for cleaning.
Follow the manufacturer's instructions when choosing your product, to prevent your awning from being damaged by an aggressive cleaner. Alternatively you can also test the product on a small spot before use.