GT AIR SOFA 1 | INFLATABLE SOFA FOR ONE PERSON
Delivery Time
Available from August
All Prices incl. VAT, excl. Shipping
(free shipping within Europe)
Cool, floating sofa for one person
Inflated within a very short time
Robust, non-slip underside
Minimum packing size & low weight
Easy to transport & easy to store
GT Air Sofa 1: The comfortable sofa for you alone
At the campsite or at home in the garden – the inflatable GT AIR SOFA 1 turns the world into your living room. In the pool, lake or sea the sofa becomes you floating armchair.
It consists of three chambers that can be inflated in no time at all. The seating comfort is regulated by the air pressure. Pressure relief valves protect it when the sun is too intense.
If the wind blows too strongly, the sofa can be additionally secured with tensioning loops. The underside of the sofa is equipped with a non-puncture and non-slip foil. When packed up it fits in every vehicle.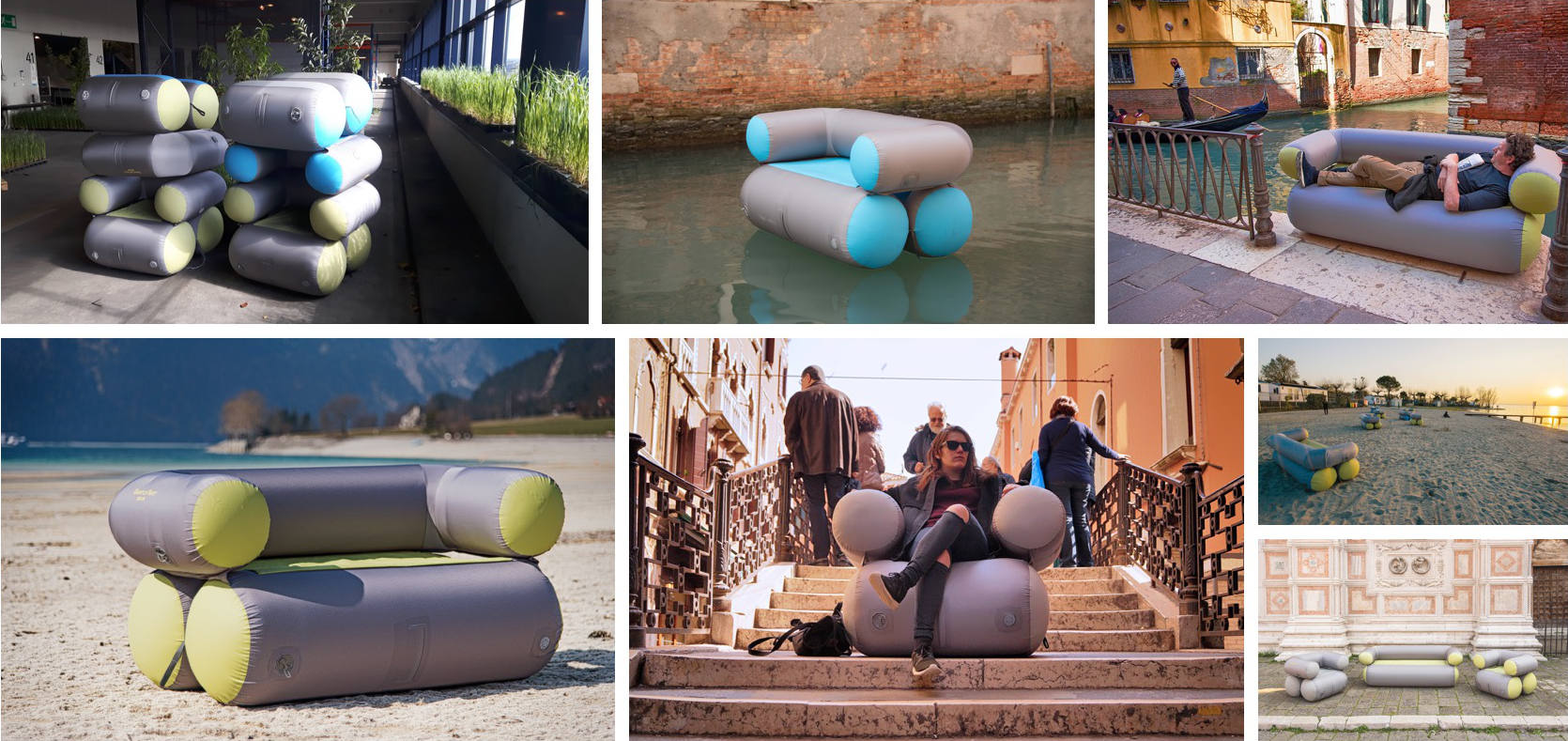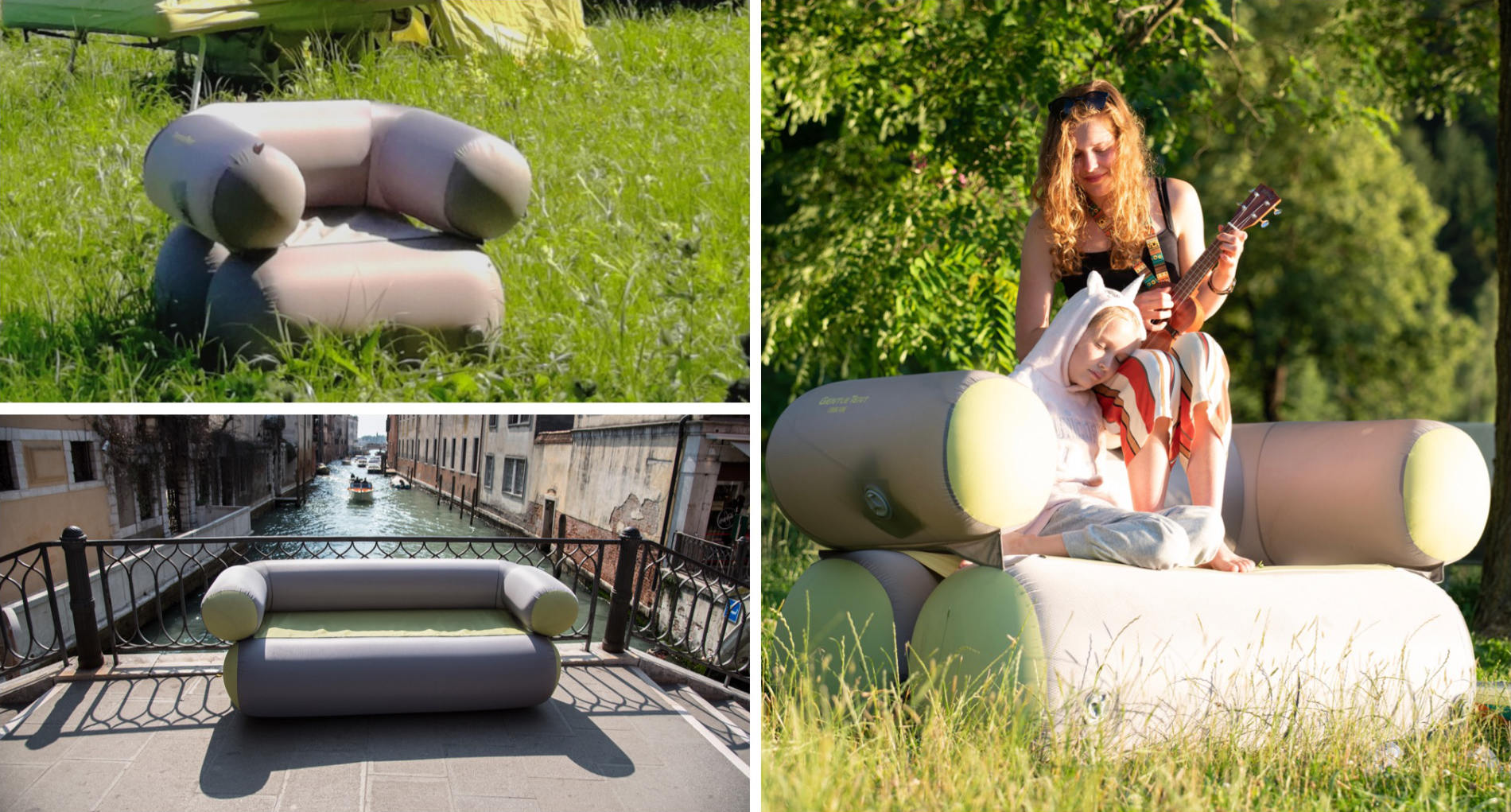 Technical Details
Color
Green/Grey, Blue/Grey
Material
Tent Fabric: Tencate, Outer Tubes: Double Ripstop PES, Inner Tube: TPU
Weight
GT AIR SOFA 1: 3,5kg
Dimensions
GT AIR SOFA 1: 60 cm x 60 cm x 76 cm
Package size (L x W x H)
GT AIR SOFA 1: 40 cm x 30 cm x 30 cm
Scope of Delivery
GT AIR SOFA 1, GT Double Action Hand Pump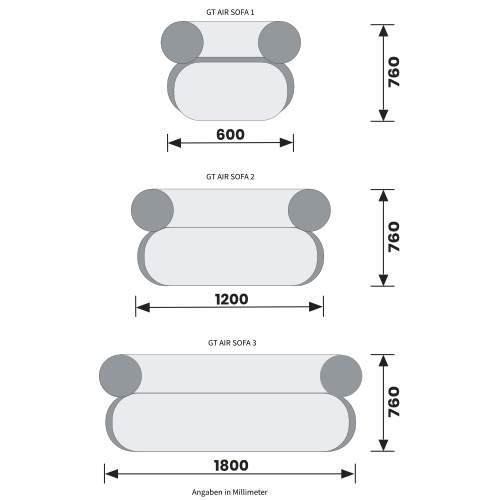 Highlights & Advantages

IDEAL MOBILE HOME
The GT AIR SOFAS for 1-3 persons can be assembled within minutes. They are easy to transport and uncomplicated to handle.

THE LIVING ROOM ALWAYS WITH YOU
With the inflatable furniture of GentleTent the comfortable living room indoor and outdoor is always with you.

UNIQUE DESIGN
The colourful GentleTent sofas are not only an eye-catcher, they are also especially comfortable. The desired seating comfort can be regulated by the air pressure.

READY FOR USE AT ANY TIME OF THE YEAR
The sofas can be used at any time of the year - whether at home, in the garden, in the pool or on the beach.

DURABLE & ROBUST
Designed for long life - the integrated hoses can be replaced if necessary.

HIGH QUALITY MATERIALS
Our sofas are made of the same high-quality materials as our awnings. On the underside they are protected by an additional foil
Accessories
More Choices: