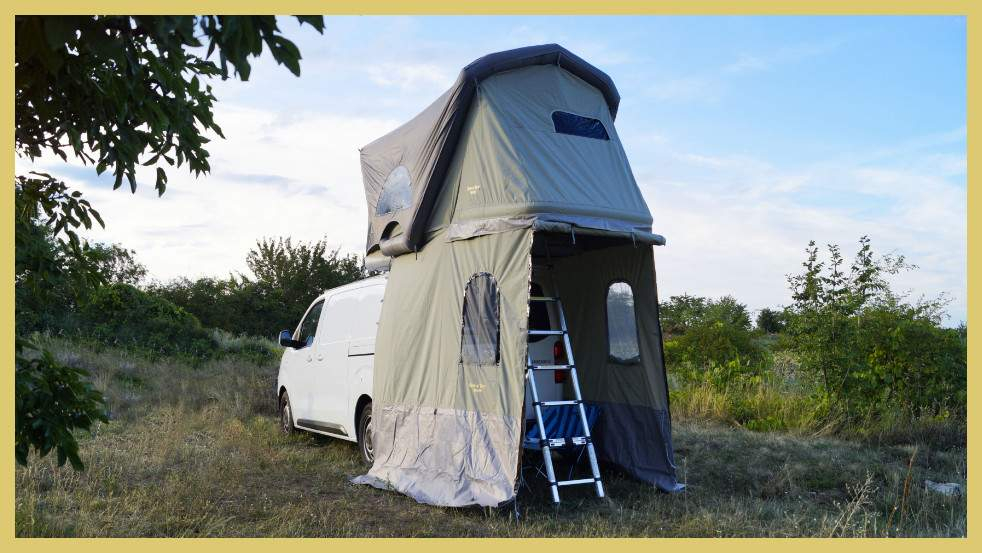 GentleTent proudly presents GT Roof: The world's first inflatable roof top tent
Two years ago, we announced the production of our roof top tent, GT Roof. We were able to turn our dreams and plans about the GT Roof into reality and are happy to announce that it is already commercially available for you. It was about time for a real light weight solution to enter the world of roof top tents. GentleTent with GT Roof is setting new standards on the market. The world's first inflatable, extremely lightweight and smallest pack size roof top tent is an all-rounder – it is even able to float. We are proud to present the first combination of roof top tent and floating tent in water.
GentleTent is striving to offer lots of space and a spacious atmosphere simultaneously to a low weight and a minimum pack size for all our products. Sticking to our principles is important to us, also with our roof top tent, the GT Roof.
Providing a 2,20m x 1,40m bed surface, an interior height of at least 1,30m in the entire tent interior, GT Roof is a roof top tent solution that is mountable on every roof rack. With 25kg GT Roof is a world's first by undercutting the weight of any other roof top tent by far.
GT Roof is also setting new standards regarding its pack size: On the car roof, the GT Roof will only take up a square frame of 1m x 1m additional to a mounting height of only 15cm.
GT Roof provides significant benefits for every roof top tent enthusiast:
Better handling due to low weight & small pack size
It is well-known that a heavy roof load will adversely affect the handling of your car, especially in road curves. The small pack size of the GT Roof is not only reducing driving resistance but also helps saving energy.
No longer troubles with limited roof load
Low weight is also highly important regarding the limited roof load. If the world's lightest roof top tent with a weight of only 25kg is too heavy, every other roof top tent is far too heavy.
Easy setup and no more heavy lifting
Anyone who had to lift a conventional roof top tent weighing 40kg or more on a car roof, knows what a relief it is if the weight is reduced to only 25kg. Additionally, setup and dismantling the GT Roof is super easy: The tent has 4 attachment points on a square aluminum frame, which is firmly connected to the drop stitch mat.
Setup and dismantling in a matter of minutes
Setting your GT Roof up as well as dismantling could not be gentler on the nerves. Once you have found the perfect spot for your GT Roof, the easy setup will only take a few minutes: After removing the protective tarpaulin off the GT Roof, you simply have to plug the electric pump in, which feeds its energy from the car's cigarette lighter. As soon as the pump is connected, the drop stitch mat, which is similar to a stand-up paddle, starts to inflate. Due to the rising air pressure, the platform gets firm enough to overhang the vehicle without any help. Once the platform is fully inflated, the air pump continues to inflate the tent. In the next step, the telescopic ladder needs to be mounted on the tent and two leashes are connecting the tent to the ground. The entire setup is completed in just 5 minutes. Dismantling is also a piece of cake. Simply open the valves and air will be released. The remaining air needs to be pushed out by hand or extracted by a pump. The estimated time for dismantling the GT Roof is less than 10 minutes. Within moments you are ready to start driving again and embark on another adventure.
Your road trip or camping holidays is over and you want to stow your roof top tent away until the next vacation? That is no problem due to the small pack size of the GT Roof. You can even hang it on the wall.
GT Roof: Combining the world's first inflatable roof top tent and floating tent
So far, we have rarely revealed it. But it is TRUE – our roof top tent is also able to float, and we cannot wait to see it sitting on a lake. Due to the base mat made of drop stitch material, which is also used for stand-up paddling, the GT Roof can also float on water. We are already dreaming about a night at the lake listening to the mellow sounds and feeling the gentle rocking of water. How about you?