GT BOX | BUS & CARAVAN AWNING
2 different connection heights for cars/vans or mobile homes/caravans
Can be used as awning and rear tent
Freestanding and completely lockable
Assembly and disassembly time: approx. 5 minutes
Compact packing size and low weight
Pleasant room climate due to the breathable polycotton material
Storm and weatherproof
Used frequently as a kitchen awning
Expandable with the new GT BOX Sleeping Extension
GT BOX | SMALL, INFLATABLE AWNING FOR PASSENGER CARS, VANS & MOTORHOMES
Flexible use thanks to two different connection heights
The unique construction of the GT BOX with two sides of different heights allows it to be connected to vehicles of variable heights. For a tight, solid attachment to the vehicle, it has two 90 cm deep connection locks (Car-Connections) equipped with piping and rubber bands. The low side allows docking to cars and vans or caravans (connection height: 150 - 240 cm). The high side connects the tent to motorhomes, caravans or vans (connection height: 160 - 290 cm).
Use as awning, rear tent or freestanding tent - Space extension of around 6m2
The GT BOX can be mounted at the rear, on the side or completely free-standing and connected to the vehicle. The 7.5 mm piping (*) integrated in the Car Connections can be completely detached by opening a zipper. The vehicle and awning can thus be separated from each other in seconds - ideal for taking the vehicle on excursions and shopping in between.
Fully lockable with 2 entrance doors and 4 windows
The GT Box is completely lockable. The front and rear walls are sewn to the awning and each have an entrance door and a window with transparent window film as well as an opaque inner curtain. Two side zips allow both the front and rear walls to be opened completely, rolled up or tensioned to the front with additional telescopic poles to provide shade. There is a closable window with mosquito net on each side.
Pleasant room climate through the breathable tent fabric
The breathable polycotton material and two ventilation openings on the sides ensure a pleasant climate inside the tent. The blended polyester and cotton fabric prevents condensation, is low-noise and UV-stable.
Extremely fast assembly and disassembly
Due to the construction of only one main air tube and one roof strut, the GT BOX can be inflated within a very short time. Assembly and disassembly only take about 5 minutes each.
Easy transport due to minimum packing size and low weight
With a weight of only 16 kg and a packing size of 60 x 50 x 30 cm, the GT BOX is easy to transport and fits into any car trunk. At the end of the season it can be stowed away quickly, in a space-saving manner.
Storm and weather resistant
The GT BOX is wind resistant and waterproof. In stormy weather, numerous bracing loops allow it to be securely attached to the ground. If it is very hot in summer, pressure relief valves protect against extremely high air pressure in the hoses.
Extendable with tent floor & GT BOX Sleeping Extension
Optionally, a tent floor made of polyethylene as well as a sleeping cabin (Sleeping Extension) made of polycotton material that can be attached with a zip fastener can be purchased for the GT BOX.
*Other piping widths are available on request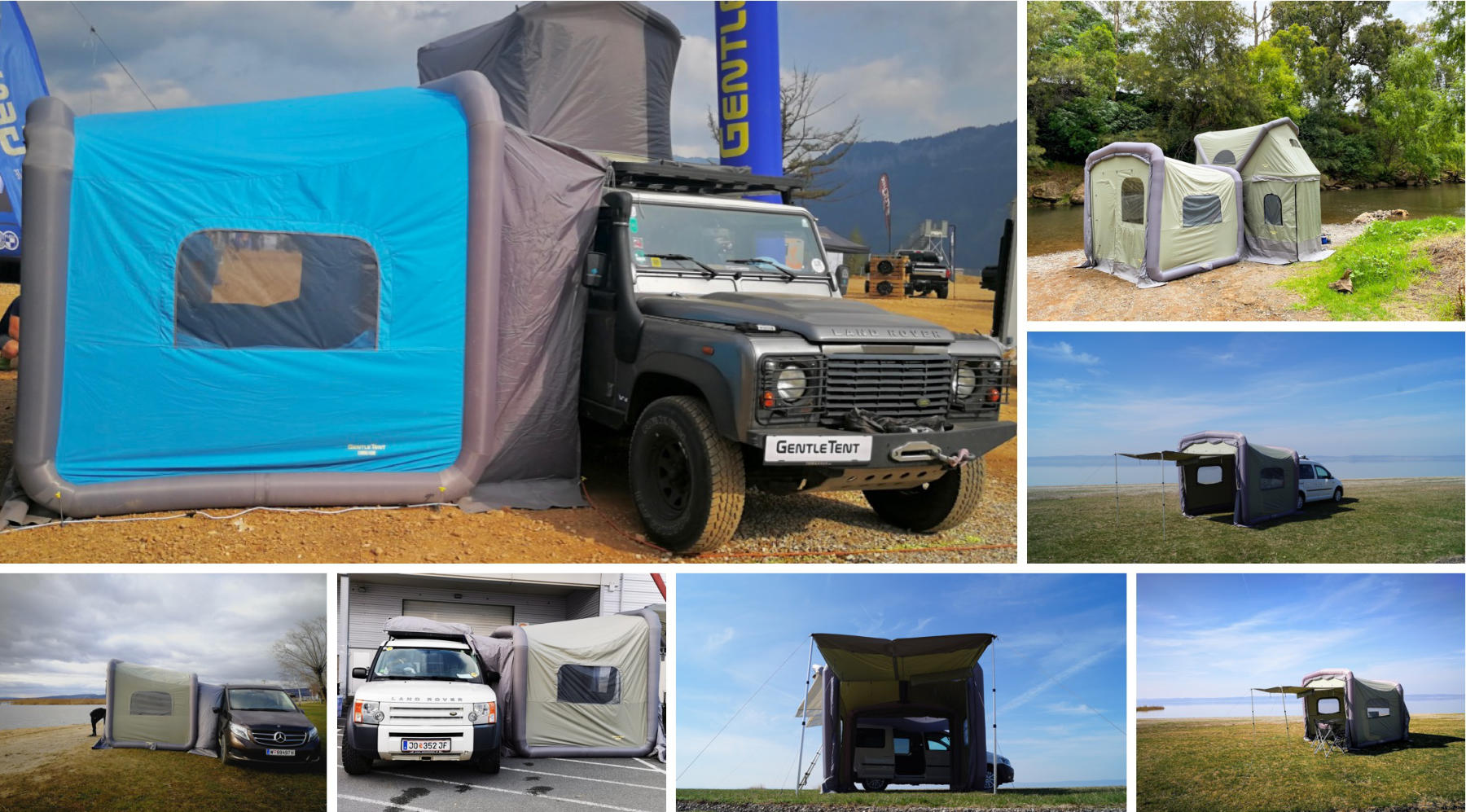 Technical Details
Colors
Blue/Grey, Olive/Grey
Material
Tent Fabric: Polycotton, Outer Tubes: Double Ripstop PES, Inner Tube: TPU, PES
Weight
16 kg
Piping
Standard Piping: 7,5mm
Connection Hights
Front: 160 cm - 290 cm, Back: 150 cm - 240 cm
Dimensions
InnenInnenmaß: 244 cm x 238 cm, Außenmaß: 278 cm x 254 cm, Höhe Front: 234 cm - 243 cm, Höhe Back: 193 cm - 204 cmmaß: 244 cm x 238 cm, Außenmaß: 278 cm x 254 cm, Höhe Front: 234 cm - 243 cm, Höhe Back: 193 cm - 204 cm
Package size (L x W x H)
60 cm x 50 cm x 30 cm
Scope of Delivery
GT BOX, GT Double Action Hand Pump, Tent Poles, Guy Wires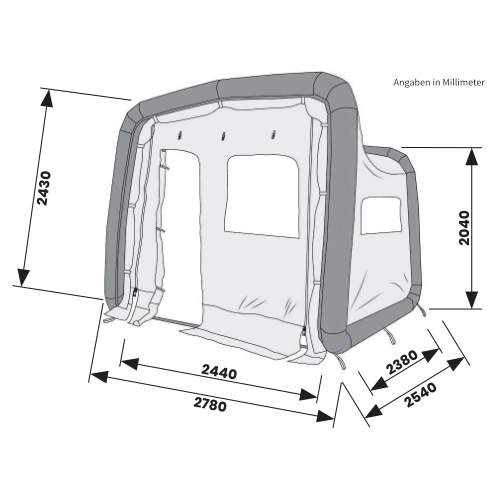 Video on how to build the GT BOX
This is how the GT BOX is built.
Highlights & Advantages

HIGH-QUALITY MATERIALS
For all of our camping tents we use high quality & breathable polycotton material.

AIR TENTS WITHOUT A SINGLE POLE
Thanks to the unique air tent construction, our camping tents require no poles.

DURABLE & ROBUST
We work exclusively with high-quality premium outdoor materials.

Außergewöhnliches Design
GentleTent goes its own way and creates innovative solutions with unique design.

MINIMUM PACKING SIZE, MAXIMUM SPACE
We offer both: maximum freedom of movement and easy transport and storage thanks to compact dimensions.

FAST ASSEMBLY AND DISASSEMBLY
Assembly and disassembly within a few minutes.