2. VIRTUAL IN-HOUSE EXHIBITION AND YARD SALE - 30.04.2020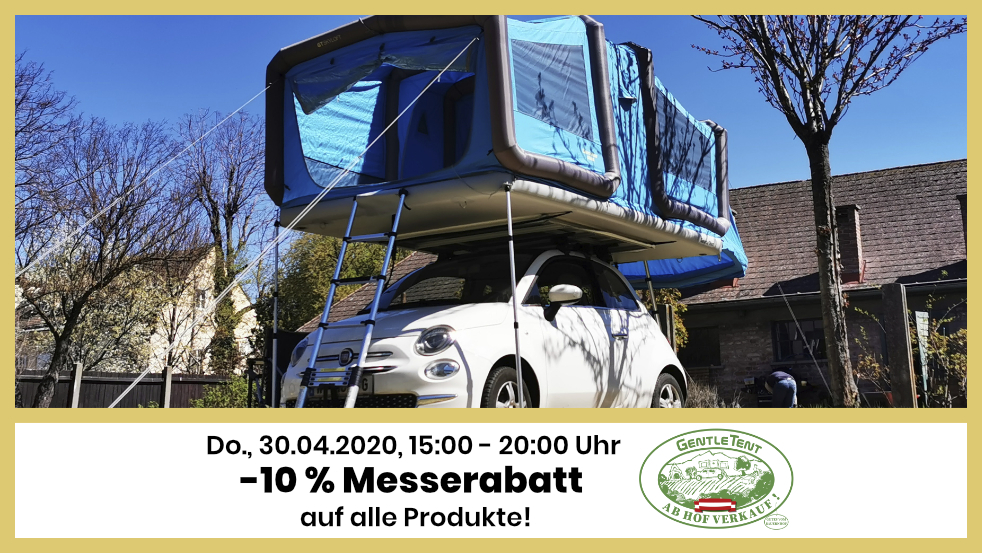 On April 30th (from 15:00 - 20:00 o'clock) there will be a 'Yard Sale' again! A virtual in-house exhibition by GentleTent & B TURTLE!
Venture on an unforgettable camping experience with GentleTent! Isn't it true that we all have to go outdoors now - into nature? Visit our in-house exhibition and start your camping season with the appropriate equipment from GentleTent. On April 30th 2020 from 15:00 o'clock we transmit live on Facebook. With many highlights from the GentleTent city farm:
15:00 Official start of the in-house exhibition:
World premiere of our "We're opening for you" campaign Afterwards: 1st tour of the fair - we will guide you through the fair and show you the highlights.
15:30 B TURTLEing instead of flying:
Why cycling with a camping trailer is the best answer to Corona. World premiere of our new tour video of the beautiful B Turtle tour from Freistadt to Vienna.
16:00 A crash course on pumping up your GentleTent product
Everything around the right air pump. We present you the results of our test series on various pump systems.
16:30 GT ROOF Special
We introduce you to the world's first inflatable roof top tent and show you what changes we have made for the next generation. We will also show you which usage variations are possible with the awning.
17:00 GT SKY LOFT Special
The largest roof top tent in the world goes into the next round. We start live with our spring campaign and show our new Sky Loft video for the first time.
17:30 The B TURTLE rental station network
We will show you where you can already rent a B Turtle this summer. Additionally we will explain how you can become a B Turtle rental station yourself.
18:00 WORLD PREMIERE: THE NEW ROOF MINI (with only 19 kg)
We reveal the secret and show you the latest achievement from the GentleTent development team. The GT ROOF MINI is the exact opposite of the GT SKY LOFT. It is the smallest and lightest roof tent in the world.
The ingenious thing about the ROOF MINI is its minimum packing size. The tent is so narrow and compact that you can mount it on the roof of your car next to a roof box, kayak or bike rack. It is set up in no time and offers two people an extremely airy and spacious sleeping area.
We will present the tent at 18.00 and show you premieres of our spring campaign for the GT ROOF MINI. You will get the first test results and information on how you can get a model right on the spot.
19:00 Together around the campfire
GentleTent-Talk / GT Community / Guests / Interviews
20:00 End of the live stream
End of the virtual in-house fair/yard sale
"The second virtual GentleTent - in-house exhibition."
Without personal participation on site! Without risk of infection.
We are organizing a virtual event with a lot of personal advice. We are looking forward to many people joining us via What's App on Thursday, April 30.
Dates
Date: 30.04.2020
Duration: 15:00 Uhr bis 20:00 Uhr
Live-Product range: All current GentleTent & B TURTLE products
How the virtual exhibition works
We are building a real fair for you. All products can be viewed live via the GentleTent-Facebook-Page.
+ Live Web Cam on the farm premises
+ Live demonstrations (product presentations, setup & dismantling, etc.)
Contact possibility by phone
We offer you 3 Live – Consulting telephones. If you have questions about products, you can connect directly to us with a video call. We will go through all open questions with you and can show you the products live with the camara.
The telephone numbers at which we can be reached will be announced punctually at 15:00 on the blog and via social media.
Orders at exhibition prices can be placed by telephone. (A confirmation via e-mail is required afterwards, of course).
Stay home and healthy!
The GentleTent Team