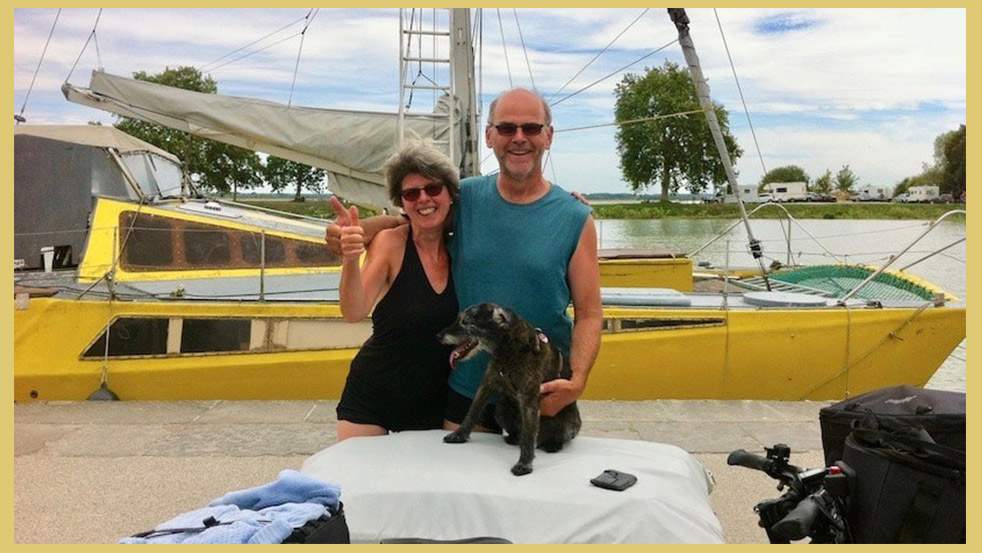 Ina and Eckhard Friedl are true B TURTLE pioneers. From the end of July till the mid of August they were "turteling" 1060 km from Germany to the french coast in three weeks. "Slow down " and "dare an adventure", those were the main arguments for Ina and Eckhart to choose this completely new way of travelling. At the campsite Rheindorf near Düsseldorf, where we met them for an interview, they told us about their travel equipment, how they planned their tour, and how they experienced travelling with the B TURTLE.
Thanks to their permission, we are allowed to make the full video available for you on YouTube. The hard facts are summed up below in written form.
The interview: B TURTLE adventure through France | Trip Report
Hard facts about the interview
Names of the bike travelers
: Ina & Eckhard
Motivation for the B TURTLE adventure:
Slow down and go for a new adventure
The tour:
all together 1060km: From Mülheim an der Ruhr by train to Trier, along the Mosel, parallel to Luxembourg and further along rivers and canals to the Somme mouth at the canal coast in France (no exact stage planning) and in sections by bike and by train back to Mülheim an der Ruhr.
Terrain & road conditions:
asphalt, normal gravel, coarse gravel, unpaved towpaths, cobblestones, concrete slabs
ø km/day:
50-70 km
Where did they sleep?
at the campsite, on private properties, or even "wild" next to the canal
Which bikes were used?
1x B TURTLE
1x e-bike with 500 kWh (no additional battery)
1x normal bicycle
The whole equipment was carried in the transport tray of the B TURTLE, in 2 cases on the luggage rack and 4 sidely placed bicycle bags (two per bicycle)..
Equipment
On the bikes:
1x bicycle case as mobile kitchen with gas cartridges, plates, cutlery, pots, bowls, cups, glasses, cutting boards, spices, etc.
2x bicycle bags with bedding: 2x duvets + inflatable pillows
1x bicycle case as "wardrobe"
2x bicycle bags for rainwear, jackets, towels and sanitary ware
In the transport tray of the B TURTLE:
plastic boxes for snacks and the dog food
plastic box for the grocery shopping
bottle carrier for bottle transport (water bottles, wine, thermos jug etc.)
a small water boiler
2x comfortable small foldable chairs for sitting and relaxing, 1x folding chair as table picnic blanket
picnic blanket
water bag with shower hose and one folding canister
folding bucket
mobile Toilette
1x light box with cables, adapter, charger and repair kit
1x light box with new bath and swimming towels
Estimated total weight:
about 29kg in the transport tray of the B TURTLE and about 10-15 kg per bike
Experience when taking the train:
Help is required when the trailer is loaded
Important note: Belgian railroad refused to take the bike trailer!
Experiences with the e-bike battery:
500 kWh on one day and never completely emptied, always recharged in the evening, they would not recommend to carry a second battery
Go uphill:
medium slopes can be done without problems when pedalling on high power stage, when it comes to extreme slopes, it is necessary to push the bicycle.
Driving experience while "turteling":
at the beginning they could still notice the trailer, after a while they almost forgot about it
B TURTLE set-up:
inflated with a hand pump, would do it like this again
Next B TURTLE journey:
again through France
---
Pictures provided by ©Ina and Eckhard Friedl