COME AND GIVE OUR ROOF TOP TENTS A TRIAL IN VIENNA & BILLRODA
Posted:
November 01, 2020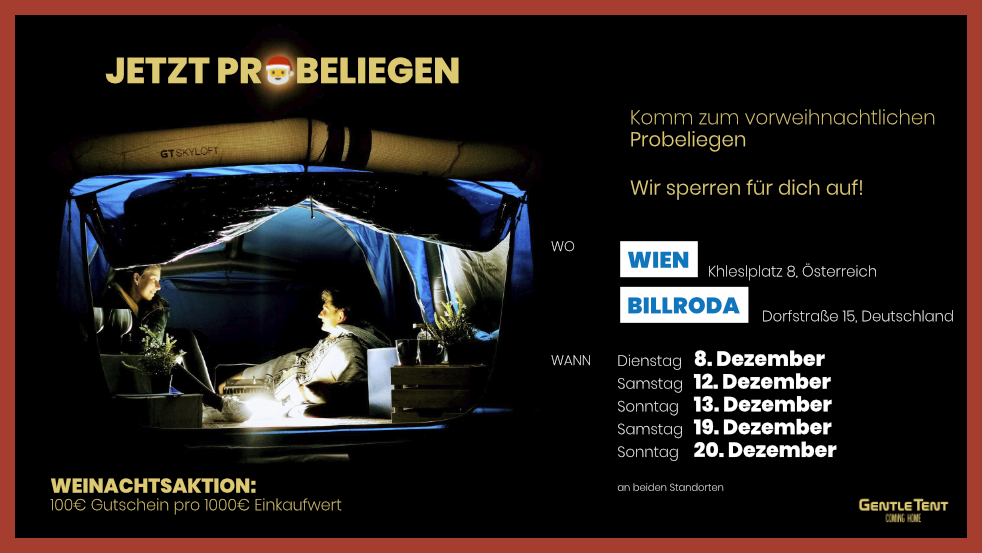 Simply try it out & give pleasure
Our GT Christmas market is open for you. Come and test our roof top tents before Christmas. We build the most compact and lightest roof top tents, freestanding awnings and casual camping accessories. And with us, everything is inflatable.
Come and try it out!
When?
Tuesday, 8. Dezember 2020
Saturday/Sunday, 12./13. Dezember 2020
Saturday/Sunday, 19/20. Dezember 2020
Where?
We look forward to seeing you!
Christmas discount promotion
Our warehouses are currently well stocked and because many fairs have been cancelled in autumn and will be cancelled in the future, we remain able to deliver for the next time. Now is an ideal time to order the equipment for 2021. There is no waiting time and the voucher makes the purchase even more attractive.
FOR EVERY 1000 EUROS ORDERED, GENTLETENT GIVES ITS CUSTOMERS A 100 EURO VOUCHER FOR PURCHASES MADE BEFORE 24 DECEMBER, which can be redeemed for further purchases. For example, if you order a GT ROOF, you will receive a 200 euro voucher that can be used to buy a suitable awning or other accessories. The voucher can also be given away as a gift at Christmas.