GT HOME 310 | CARAVAN AWNING
Suitable for campers/caravans and vans
Freestanding and completely lockable
Inflatable, no rods or supports
Low weight and small packing size
Assembly and disassembly within a few minutes
UV-resistant, durable materials
Wind and weatherproof
Optionally extendable with back wall and tent floor
Universal use (e.g. as: bar area at barbecues, sales stand, etc.)
GT Home 310 - INFLATABLE AWNING FOR CARAVAN & VAN
Compact awning for caravans & vans
With a connection height of 240 - 300 cm, the GT HOME 310 is perfectly suited for camping fans who are on the road with caravans, motorhomes or vans. The compact awning offers plenty of space and storage for bicycles or camping furniture.
Freestanding & universal use
The GT Home 310 can be set up completely free-standing or connected to the side of the vehicle. For excursions or shopping in between, the awning can be completely closed after attaching an optionally available rear wall.
Practical & spacious
Thanks to the innovative air tent technology, the GT HOME 310 does not have any slants or sloping corners. The interior itself is free of poles or supports and increases the living space by approx. 8 m2. The continuous interior height is over 240 cm.
Two doors, four windows, roll-up front
The divisible front side of the awning has a large window with transparent window film (including interior curtain) and a separate entrance door. The front can be completely rolled up or can be tensioned to the front as a sun canopy using telescopic poles. On each side there is a window with window foil, supplemented by a further door and a window with mosquito net.
Breathable & robust
The high-quality and breathable Tencate All Season Touring material in combination with generous window and ventilation openings ensures a pleasant indoor climate. As a long-proven tent fabric, the robust polyester fabric with acrylic coating is waterproof and weatherproof.
Quick assembly and dismantling thanks to the innovative air tent technology
With only one main air hose and three roof supports, the inflatable GT HOME 310 awning can be completely assembled or disassembled in just 8 minutes. For a solid and tight connection to the vehicle, the awning has a sluice (Car-Connection) with integrated piping, which can be detached by means of a zip, as well as elastic rubber bands and eyelets. Easy transport due to minimum packing size and low weight With a weight of only 19 kg and a packing size of 60 x 62 x 35 cm, the GT HOME 310 easily fits into every car's trunk.
Storm and weather resistant
The GT HOME 310 is wind resistant and waterproof. Loops in the front area of the tent offer a number of possibilities for guying the tent. Tensioning loops in the ground area allow the tent to be firmly anchored to the ground. Pressure relief valves protect the tent from excessive pressure in the tubes.
Extendable with tent floor & back wall
A tent floor and rear wall can be optionally purchased for the GT HOME 310.
* Other piping thicknesses are available upon request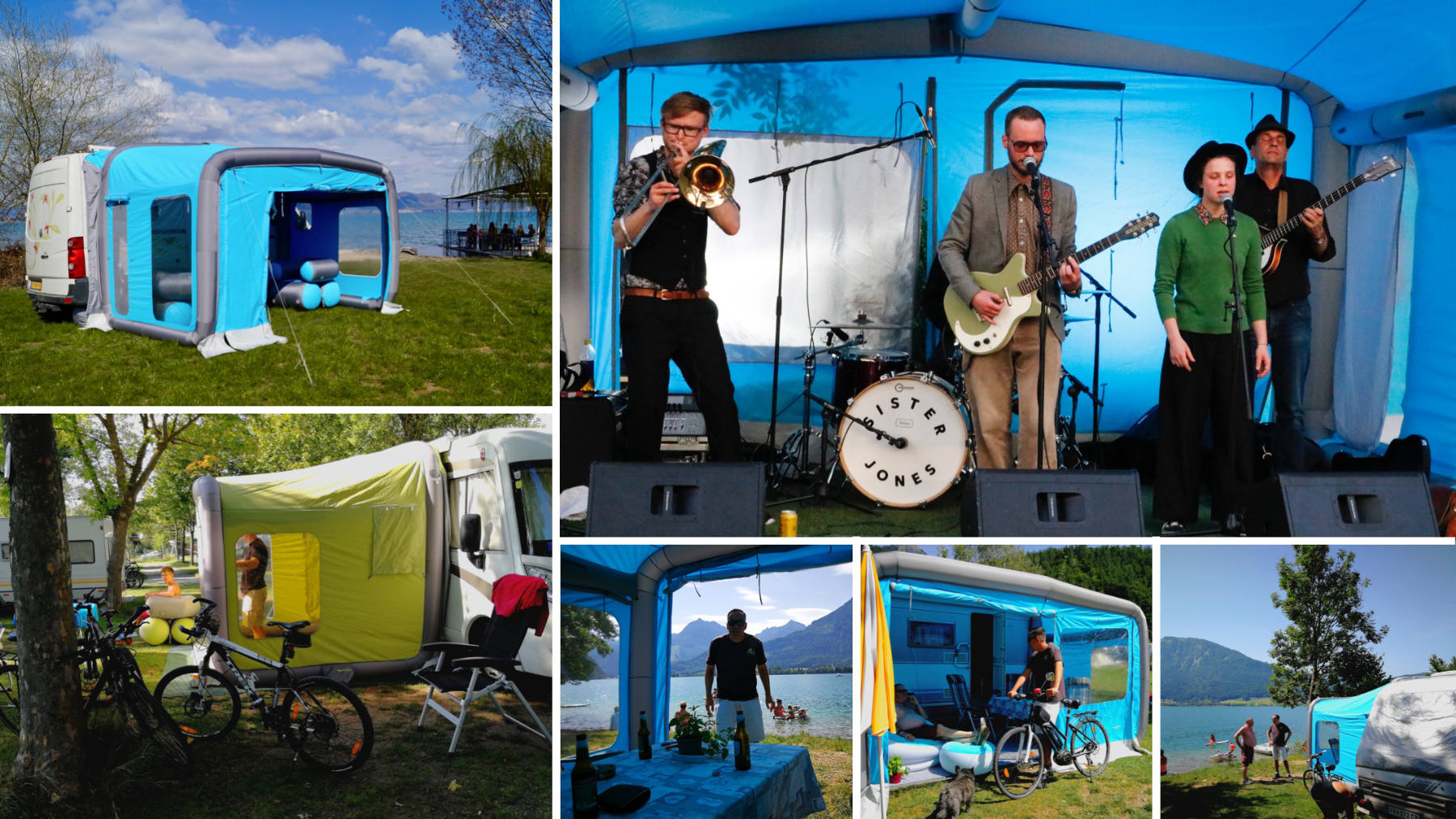 Technical Details
Colors
Green/Grey
Material
Tent Fabric: Tencate, Outer Tubes: Double Ripstop PES, Inner Tube: TPU, PES
Weight
19 kg
Piping
Standard Piping: 7,5mm, On request: 5,5 mm / 8,5 mm piping
Connection Hights
240 cm - 300 cm
Dimensions
Inner Dimensions: 310 cm x 257 cm, Außenmaß: 450 cm x 285 cm, Höhe Front: 203 - 215 cm, Höhe Back: 244 cm - 252 cm
Packing Size (L x B x H)
60 cm x 62 cm x 35 cm
Scope of Delivery
GT HOME 310, GT Double Action Hand Pump, Tent Poles, Guy Wires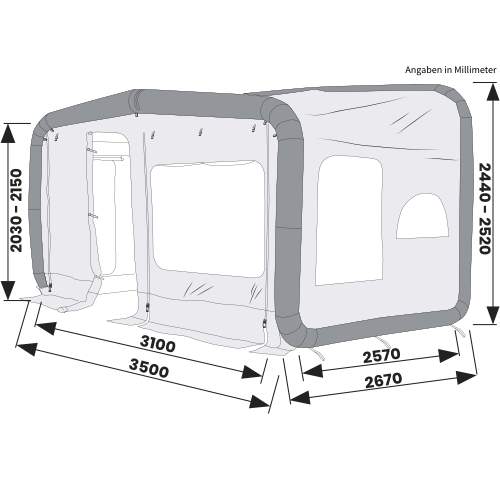 Instructions & Videos
Video on how to build the GT HOME 310
This is how the GT HOME 310 is built.
Highlights & Advantages

HIGH-QUALITY MATERIALS
For all of our camping tents we use high quality & breathable polycotton material.

AIR TENTS WITHOUT A SINGLE POLE
Thanks to the unique air tent construction, our camping tents require no poles.

DURABLE & ROBUST
We work exclusively with high-quality premium outdoor materials.

Außergewöhnliches Design
GentleTent goes its own way and creates innovative solutions with unique design.

MINIMUM PACKING SIZE, MAXIMUM SPACE
We offer both: maximum freedom of movement and easy transport and storage thanks to compact dimensions.

FAST ASSEMBLY AND DISASSEMBLY
Assembly and disassembly within a few minutes.