GT ROOF MINI World Premiere / Early Bird Promotion/ Free shipping to the EU & Switzerland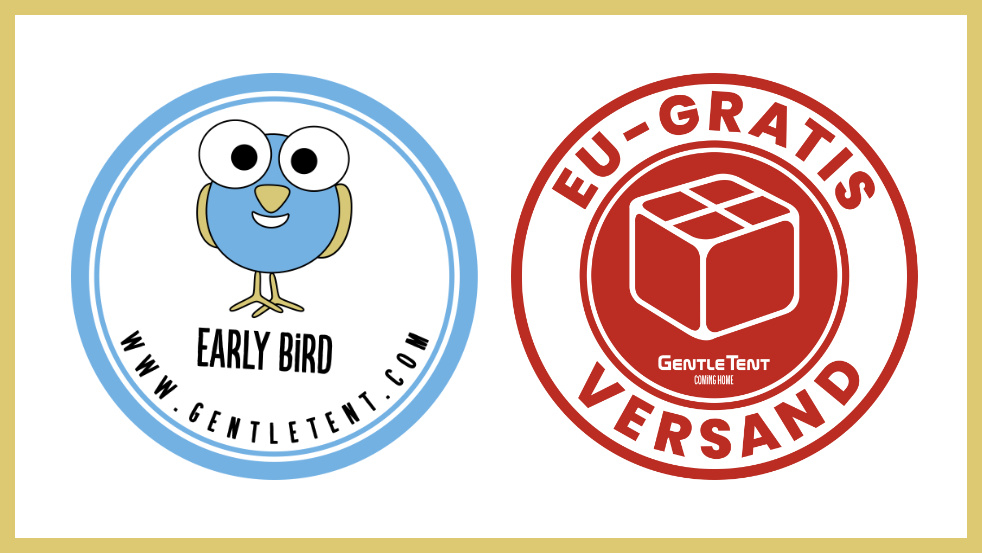 THE NEW MONTH BRINGS GOOD NEWS - Free shipping in the EU & Switzerland, GT ROOF MINI World Premiere & Early Bird promotion at GentleTent!
From 1 May 2020, we will offer our customers even more online service. With a new website and a new, modern online shop, we are making a fresh start on the web.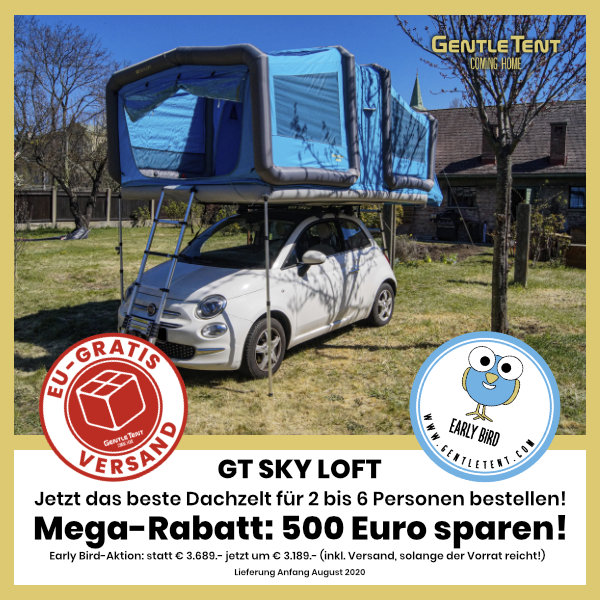 And these are the highlights:
1) Free shipping across the entire EU and Switzerland
As part of the Corona crisis, we have decided to simplify our ordering system, make it fairer and focus even more on customer service. Our aim is to ensure that the same shipping conditions prevail throughout Europe. In the future it will be even easier for our customers to order their respective GentleTent from us. Since: We are Europe! From now on we ship FREE OF CHARGE within the EU and to Switzerland with direct home delivery.
2) Sensational Early Bird promotion with up to 500 Euro discount for the first customers
3) World premiere of the GT ROOF MINI - the lightest 2 person tent in the world
During the Corona period we learned how useful it can be if we don't have to leave the apartment for shopping. We now offer this service even after the lockdown. We send your GentleTent directly to your front door. Regardless if you come from Palermo to the south or Stockholm to the north. For your next purchase use the new online shop, which we offer for the time in German, English, Swedish, Polish, Dutch and Italian. All online prices include shipping costs.
As a special thank you for the first orders via our new web shop we have a great EARLY BIRD promotion on the way. Be one of the first to test the new web shop and enjoy the following advantages:
1) The first 30 orders of the new GT SKY LOFT can redeem a 500 Euro Early Bird voucher.
2) For another 100 Early Birds we offer a 350 Euro voucher. These 100 vouchers can be redeemed with the purchase of a roof top tent (GT ROOF, GT ROOF MINI, GT PICK UP) and with all awnings (GT BOX, GT HOME VAN, GT HOME 310 and GT HOME 410)
The vouchers can only be redeemed for orders via the GentleTent website. The campaign runs as long as vouchers are available.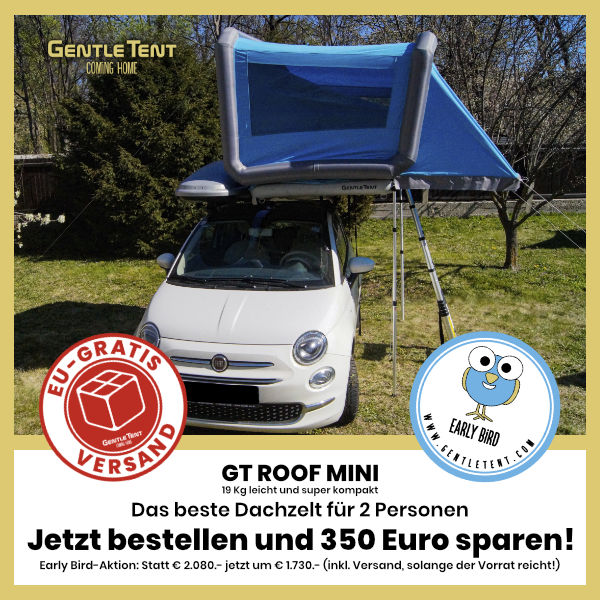 Advance sales for the new GT ROOF MINI, the lightest and most compact roof tent in the world, will also start on 1 May. The two-person roof top tent sets new standards with its super-small packing size of only 32 x 100 cm. The ROOF MINI inflates in 2 minutes and the spacious interior offers space for 2 people.
Order now with 350 Euro-Early Bird discount. Delivery will start in autumn 2020.