GENTLETENT PRODUCT INNOVATIONS 2019: GT SKY LOFT, GT BOX & GT BOX SLEEPING EXTENSION
Posted:
December 09, 2019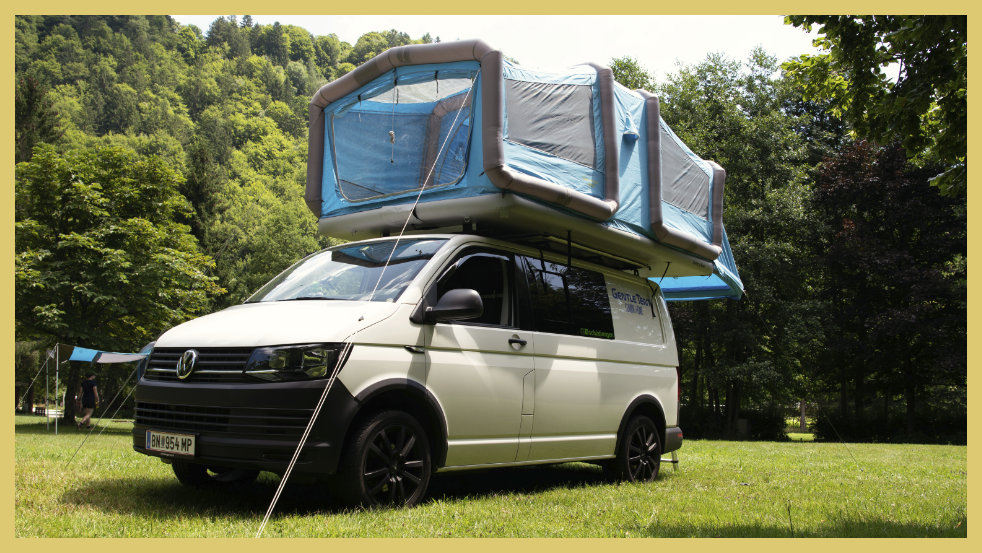 And again a successful year for GentleTent comes to an end. Also this year we have stirred up the market with our product innovations. Above all, of course, the presentation of the currently largest roof top tent in the world for up to six persons: the (1) GT SKY LOFT.
Furthermore we launched the new and revised version of the popular (2) GT BOX. In addition to this multifunctional complete awning, we have also introduced the latest innovation. With the (3) GT BOX SLEEPING EXTENSION the GT BOX got a sleeping cabin extension for 3-5 persons.
The GentleTent innovations 2019 at a glance:
(1) GT SKY LOFT - The largest roof top tent in the world for 5-6 persons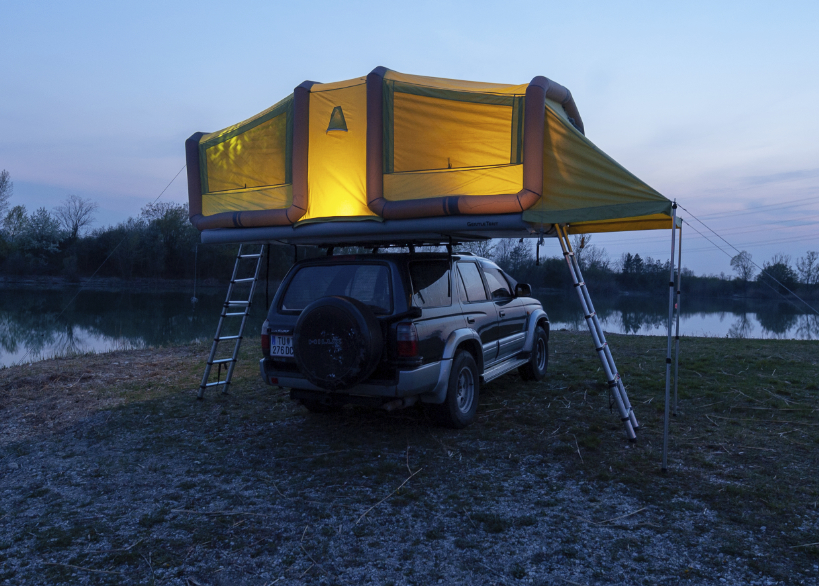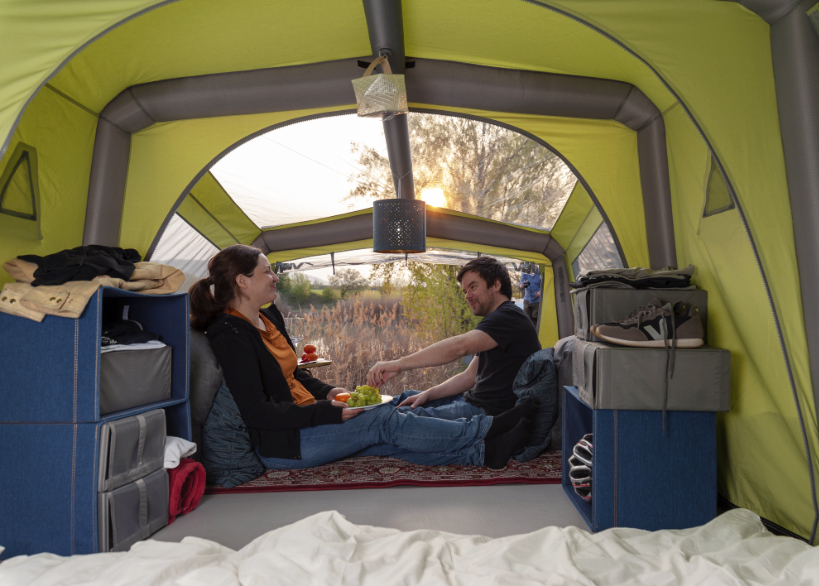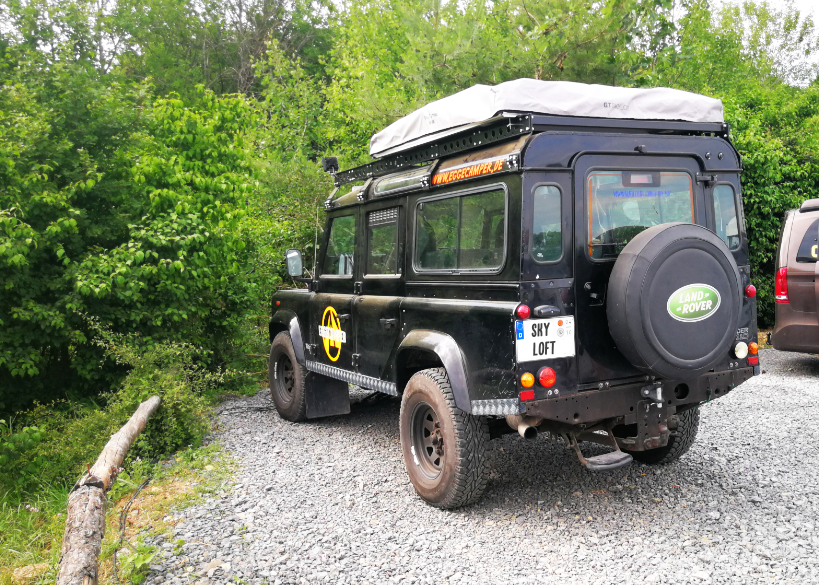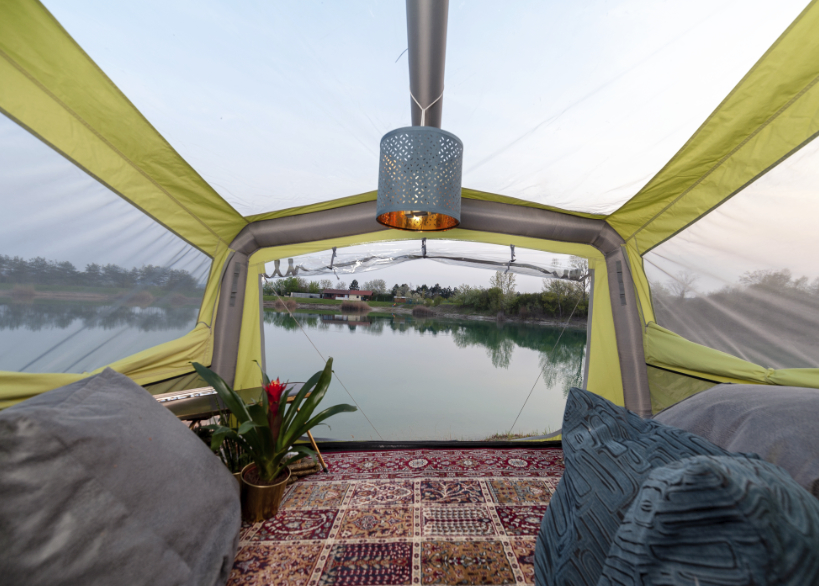 The GT SKY LOFT, which was presented during the Gentle Days at the end of May 2019 in Vienna, stands out above all because of its unbelievably large tent space (10 cubic metres) and its minimal weight. In addition, this innovative roof top tent in the established GentleTent design is a real eye-catcher.
Large family tent or luxury camping on the roof of your car
The Drop Stitch sleeping surface of 340 x 200 cm can easily accommodate 5-6 persons. With a height of 140 cm, the tent can be divided into two separate rooms and is therefore the ideal family roof top tent with one master bedroom and one child's room. Or you can simply use the GT SKY LOFT as a glamping oasis for two - to chill out on the roof of your car with a bedroom and a living room.
A large glazed skylight has been installed in the front "Sky Room", perfect for enjoying the sunset with a glass of wine and then having a panoramic view of the starry sky. 4 large-sized mosquito windows and the tent fabric made of breathable polycotton also ensure a pleasant indoor climate.
The roof top tent's weight of only 49 kg allows 2 mounting options
Compared to conventional roof top tents, with a net weight of only 49 kg the GT SKY LOFT is a true weight saver. For vehicles with a permissible roof load of at least 55 kg, this is no problem at all.
The packed tent (165 cm x 145 cm x 15 cm packing size) is attached to the car roof by means of an aluminium mounting frame on the car roof for longitudinal or transverse mounting on 2 or 3 roof racks, depending on the length of the vehicle, and supported with the telescopic ladder supplied. For transverse mounting with lateral overhang, a second ladder is used for support. Once the frame has been mounted, the total of 6 tent tube systems are inflated within a very short time using the 12 V compressor pump supplied.
The GT SKY LOFT is waterproof, UV-resistant as well as storm and weather resistant. For particularly hot or cold days, an extra outer cover is included in the scope of delivery. A high-quality awning made of polycotton including a window is optionally available.
The GT SKY LOFT in the standard version is available in our webshop for 3.390 Euro.
(2) The new GT BOX - the most versatile awning in the world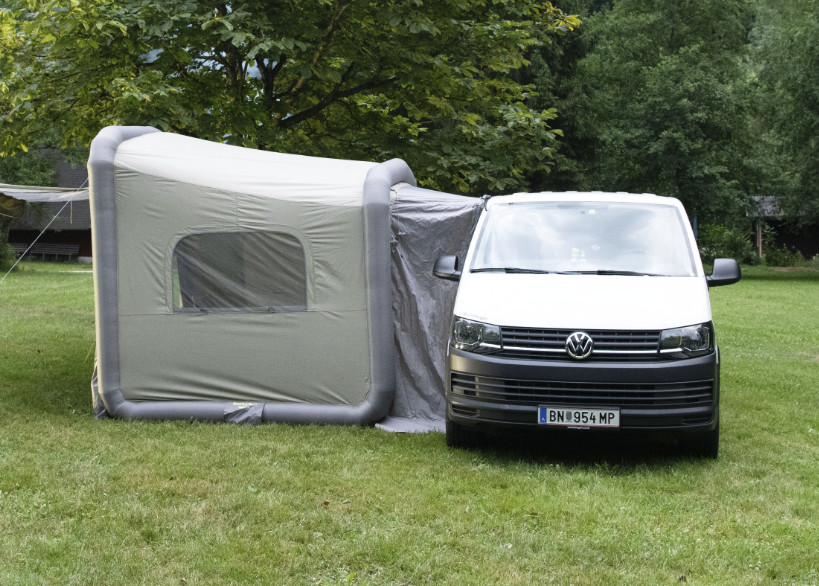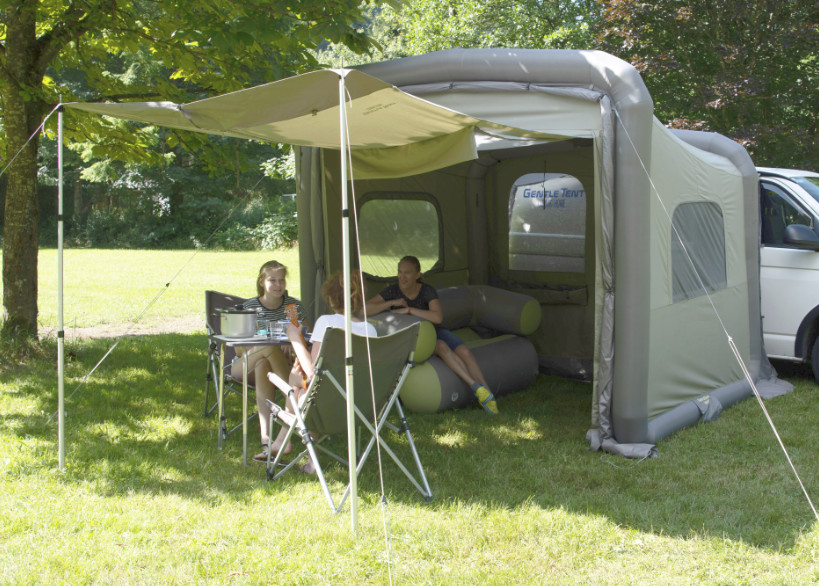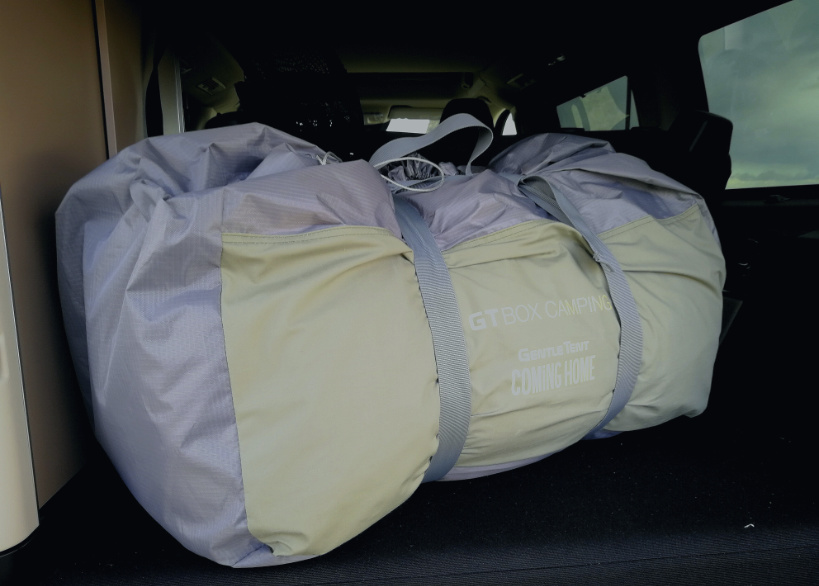 There is also some news to report about our popular awnings:
In comparison to its modular predecessor, the new GT BOX presents itself as an extremely flexible and fully closable complete awning. A further innovation is the additional central strut in the roof area, which provides more stability.
It can be used as a classic awning, but creative GentleTent customers are also increasingly using it as a tent for barbecues or for trips to the beach. It has been reported that it can easily withstand even strong Baltic Sea winds. With only 16 kg and a compact packing size of 60 x 50 x 30 cm, the BOX is also very easy to transport.
Quick assembly - 2 different connection heights allow flexible connection via Car Connection
The new GT BOX is inflated and anchored in 5 minutes. The two different sides of the tent then allow connection to vehicles of different heights. The low side with a connection height of 150 - 240 cm is suitable for cars and vans (or buses), the high side is designed for campers, caravans and box vans (160 - 290 cm). A 90 cm deep Car Connection ensures smooth and above all tight fastening of the vehicles via 7.5 mm piping and rubber bands.
Pleasant room climate
The awning is made of breathable, low-noise and UV-resistant polycotton. Once upright, the two windows with mosquito protection provide pleasant cross-ventilation. In addition, both the front and back of the awning are equipped with a door and windows made of camping glass with an interior curtain.
A tent floor is also optionally available.
The price is also quite convincing: The new GT BOX is available starting at 1,399 euros.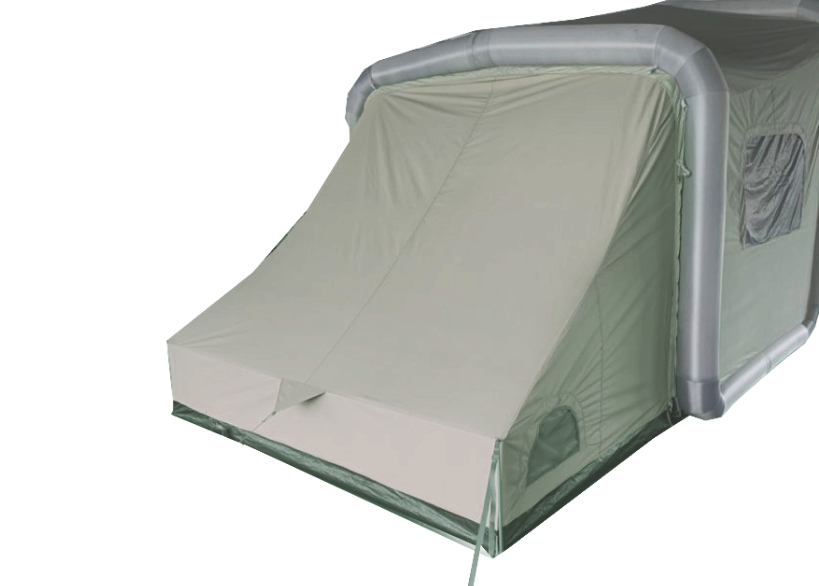 By popular demand, the BOX now also has a further optional add-on: the new GT BOX SLEEPING EXTENSION.
This sleeping cabin converts the GT BOX into a family tent for 3-5 people in just 30 seconds. It is simply attached with a zipper and is secured with 2-6 tent pegs.
A separate entrance, 2 metres of headroom, 2 closable mosquito windows and the tent floor included in the scope of delivery provide enough space to guarantee a pleasant camping trip for the whole family. Thanks to its minimal packing size and low weight, the GT BOX SLEEPING EXTENSION also fits easily into any car trunk.
The GT BOX SLEEPING EXTENSION costs 279 euros.